The Czech Symphony Orchestra continues the best concert traditions of FISYO. Since 1991 it's activities were taken by the FISYO Ltd. and the orchestra has performed a great number of important performances. Unforgotten are also the other significant Czech conductors, namely František Vajnar, Petr Vronský and Leoš Svárovský.
The orchestra further performed the oratorium "Elias" by Felix Mendelssohn-Bartholdy, as the opening of the International Music Festival "Prague Autumn", with the soloists of the Metropolitan Opera, conducted by Isaiah Jackson from the USA. Conducted by Eugen Kohn, it has accompanied the tenor star Plácido Domingo in his concert in Prague.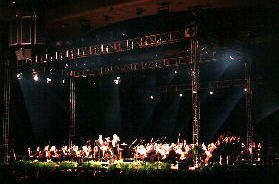 Celebrating the composer's Carl Orff's 100th anniversary, it participated on the grandiose project of the open air opera "Carmina Burana". In Spain, the orchestra performed Sergei Prokofjev's oratorium "Ivan the Horrible", directed by J.A.Zaize.
In it's abroad activities, the Czech Symphonic Orchestra performed various concerts in Germany, Austria, Switzerland, France, Italy and Spain.